Our Studio
We have a diverse portfolio of projects across Europe and Asia, from small private commissions to public buildings and urban planning proposals.
There are two primary strands to the practice: the first is historic conservation architecture applying skills in intelligent conservation and sensitive building design to projects, and the second is grand architecture concerned with cultural and commercial commissions.
We enjoy working on challenging projects of all scales, including many historic listed buildings. We pride ourselves on a high degree of attention to detail and a flair for innovative and modern design.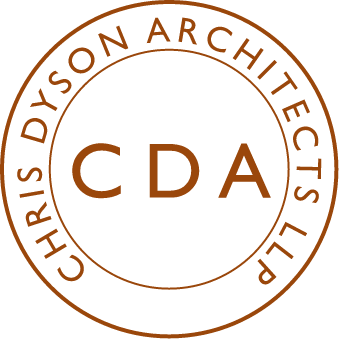 CDA was founded in 2004 by Chris Dyson, a former senior designer at Sir James Stirling and Michael Wilford Associates, and more recently at Sir Terry Farrell and Partners.
The practice is based in the historic Spitalfields area of London, where Dyson has lived and worked for 20 years, and where many of the practice's early projects are located.
Chris Dyson Architects have been incredible in every aspect of every project!
A & S Lipman
Developer - Lipman Property Developer
The team have been professional, creative, and diligent in their approach.
Chris Dyson ensured that the building worked hard to bring the scheme within budget
Lydia Lee
Head of Culture - Bromley London Borough
I doubt this would ever have been approved by LBTH without your reputation and the brilliant design.
This is a firm of the highest order - brilliant, knowledgeable, hardworking, fair, completely honest!
D Lonsdale
Private Client
The team was great and very patient with us.
Awards
2021
Shortlisted – RIBA London Regional Award
Regional Finalist – Civic Trust Awards
2020
Winner – Surface Design Awards (Sustainable Surface Exterior)
2019
Shortlisted – AJ Retrofit Awards
Shortlisted – RIBA London Regional Awards
2018
Winner – RIBA London Award
Winner – RIBA London Sustainability Award
Finalist – Civic Trust Award
Finalist – WAN Awards
2017
Winner – RIBA London Regional Award
Finalist – WAN Awards
Finalist – Building Awards
Finalist – Sunday Times Awards
Finalist – Architect of the Year
Finalist – AJ Retrofit awards
Finalist – Blueprint Awards Best Small Project
2016
Winner – Sunday times Awards, One Off House/Extension
Winner – Sunday Times Awards, Conversion, Restoration or Refurbishment
Highly Commended – Brick Awards
Highly Commended – Sunday Times, Architect of the Year
Highly Commended – Manser Medal
Commended – AR Future Projects
Commended – Don't Move Improve
Finalist – AJ Small Projects
Finalist – AJ Retrofit award
2015
Winner – RIBA London Regional Awards
Winner – Schuco Design Excellence
Finalist – Blueprint Awards
2014
Winner – AJ Small Projects
Winner – Brick Awards
Finalist – Architect of the Year Awards
2011
Winner – City Heritage Award